As Easy as Riding a Bike?
Guest blogger Peter Russian from Investors in People Scotland explains the benefits of the sixth generation framework:
Someone said to me recently that cycling is the new golf – it's becoming the sport of choice for men and women alike, and there is no doubt that part of this revolution has been inspired by the achievements of people like Chris Hoy, Bradley Wiggins, Chris Frome, Rebecca Romero, Victoria Pendleton, Sarah Storey.
I also recently listened to a speech from Dave Brailsford, a coach for British Cycling and someone who has played an important part in all their successes. His take on the vital ingredients for success? They were:
• Recruiting people with the best cultural fit
• Giving people ownership
• Providing absolute clarity
• Setting clear standards for performance and behaviours
• Happy People in a Happy Environment.
Next year, Investors in People will celebrate 25 years of helping organisations across the UK and beyond. And a key to that longevity has been to recognise that good practice doesn't stand still.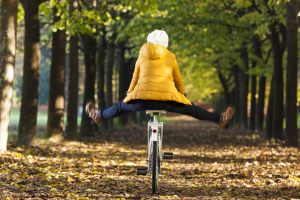 Back in 1991, Investing in People was all about the commitment to training and development. Now we know that it's not about one dimension, but a range of practices which impact on people's ability to perform to the best of their ability.
That matters to us as individuals, to teams, to organisations, and ultimately to our economy.
There's been much press coverage and comment about the productivity gap in the UK in the past couple of months which suggests that we still have some way to go in helping to make the case that all this people stuff makes a difference to productivity.
Commentators appear to see this as some great mystery – describing the productivity challenge as if it were some end of the rainbow, impenetrable quest.
But, you know it, I know it, Dave Brailsford knows it, and there's plenty of research to back it up. There is an intrinsic link between the way in which people are led and managed and their performance in the workplace.
So how does IIP help?
I see our role being to scan the horizon – identifying the practices and outcomes that predict whether an organisation can get the best from its people – and then sharing it with others, encouraging change, and of course, recognising achievement.
And what is very encouraging, and what gives us the confidence that IIP is more relevant than ever before is the results of our most recent research about the role and impact of IIP in Scotland
We are now using that expertise – identifying, sharing, supporting, and recognising good practice in to the arena of youth employment and we have 200 organisations who are now actively involved with Investors in Young People.
It's part of our commitment to our clients, and at the heart of our purpose- helping organisations to achieve their goals by improving the way people are led, managed and developed – and through this is our commitment to making Scotland a better place to work and do business.
It means that IIP is more relevant than ever before to the economy in Scotland and so to our future in a changing world. If IIP helps organisations to be more productive, government, partners, professional bodies all have a stake in our success. That's why when the First Minister announced the details of the new Scottish Business Pledge, both Investors in People and Investors in Young People were referenced as important support tools to help Scotland become a better place to work and a better place to build a business.
Businesses like Cobbs Bakery, as an example.
The success of the Commonwealth Games wasn't confined to the athletes. Cobbs Bakery provided a mouth-watering 70,000 flapjacks, millionaire shortbread and other essential nutritional goodies to the Athlete's Village and Hampden Park.
But here's the back story. Cobbs had grown from a kitchen table business to a £2m business, and with plans to expand to a £5m turnover – and with a big Commonwealth Games contract in place -they wanted help in looking at how they should invest in their workforce to support growth. Cobbs were referred to IIP Scotland as part of the Skills for Growth programme that we deliver in partnership with Skills Development Scotland.
We made a number of recommendations around strengthening leadership and management skills, but we also identified a skills gap in the operations side of the business. This led directly to the creation of a new role of Operations Manager and, as a result of the changes made by their new recruit, the business originally estimated they have saved £40,000. In fact, this figure is now closer to £100,000.
And who knows what marginal gain one of those athletes might have gained as a result of re-energising themselves with a tasty piece of flapjack or millionaire's shortbread.
We're Investing in People, and Investing in Scotland's success.
But good practice doesn't stand still and so this summer we launched the sixth generation of Investors in People framework. We've been building on all the things which have made IIP successful and have helped us to grow our own business by 30% in the last year.
It reflects the latest thinking and research on what makes the difference – what do the best performing organisations do when it comes to leading, managing and developing their people.
It will help you and your organisations to be really clear about the practices and approaches which are going to make a difference to you achieving your ambitions.
It will give you the confidence that you are working with a development framework that is based on the most up to date thinking available today.
Because we have to base our approach on what works now, not what worked in the past.
Gary Hamel, one of the world's leading management thinkers describes how almost all the tools of modern management were invented before 1920 – pay for performance, capital budgeting, task design, divisionalisation, brand management. And most of them were invented by individuals who were born in the middle of the 19th century. And whilst there have been changes and adjustments to some of these principles, it is the approach to managing people which has probably changed the least. The problem they were trying to solve was fundamentally how to turn human beings into highly efficient producers, not how to develop an effective, flexible, innovative workforce.
And the pace of change in the last 20 years has begun to expose the need to think very differently about how we work with our people.
The most important relationship in many organisations is the one that exists between the customer and the people providing the service product. It's where the customer gets the value from the organisation and where the organisation gets the value from the customer.
The job of organisations, of leaders and managers is to create the conditions which allow people to perform to the best of their ability and to be relentless in their focus on this.
When Dave Brailsford won the Sports Personality of the Year award he said simply "my job is to help people get better".
Investors in People helps organisations get better, it helps leaders and managers get better, and it helps people get better.
This is the incredibly simple proposition at the heart of Investors in People. What are you trying to achieve? How will you help people achieve it?
Our job is to help you achieve your ambition.
Because your people are fundamental to your success.
Our job is to challenge your thinking.
Because change is ever present.
Our job is to recognise success
Because medals and trophies are a tangible sign of success.
But of course the most important sign of success is the prosperity and confidence of our economy. We can use Investors in People and Investors in Young People to make a real difference to Scotland and you can trust Investors in People to be working alongside you to help you on your journey of success.